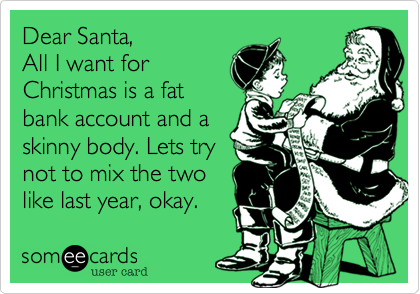 In honor of helping you get through the holidays with a FAT bank account this year, here are my best hacks for saving money on your holiday shopping:
If you are tempted to shop for yourself when you shouldn't, unsubscribe from all store emails… REMOVE temptation from your inbox!
If you haven't already, sign up for Rakuten. It's is a free tool that pays you cash back for online shopping. There's no catch. I've made hundreds of dollars over the years. Pro tip: make sure you download the browser extension – that way any time you shop, it will automatically activate Rakuten for you so you don't have to remember. You can sign up here.
If you agreed with someone else that you won't be exchanging gifts this year, but then they "get you something small anyway," do not feel obligated to also get them something. They are the one breaking the rule, not you!
Don't go into debt trying to show people how much you love them.
Start saving NOW for next year.
It's okay to say, "I've been [watching my spending/trying to cut back], so I'll be getting you something a little smaller this year. Feel free to do the same for me. I hope that's okay."
If you're on a budget, consider making gifts: candles, soaps, cookies, art.
Suggest a gift exchange for your family (and any other random groups like coworkers or book clubs). That way, everyone only has to buy one gift.
Shop secondhand for decorations. Thrift stores and garage sales are the BEST places to find deals on decor.
Save money with Raise. You can sell old, unused gift cards for cash. You can also buy gift cards at a discount and use them for purchasing presents. That way you're automatically getting 5% to 10% off!
If you have a credit card that you're paying in full every month, look to see if they have a shopping portal. Often, if you navigate to a retailer through the credit card portal, you'll earn extra cash back.
Finally: Remember what the holidays are about… spreading love and joy. Doing so shouldn't strain you financially.
Rachel Richards is a former financial advisor and bestselling author. ,,You can download her free budgeting and net worth worksheets here.