Find & Analyze Rental Property Bootcamp
A 12-Week Bootcamp that Shows Beginner Investors How to Buy Residential Rentals at 12%+ ROI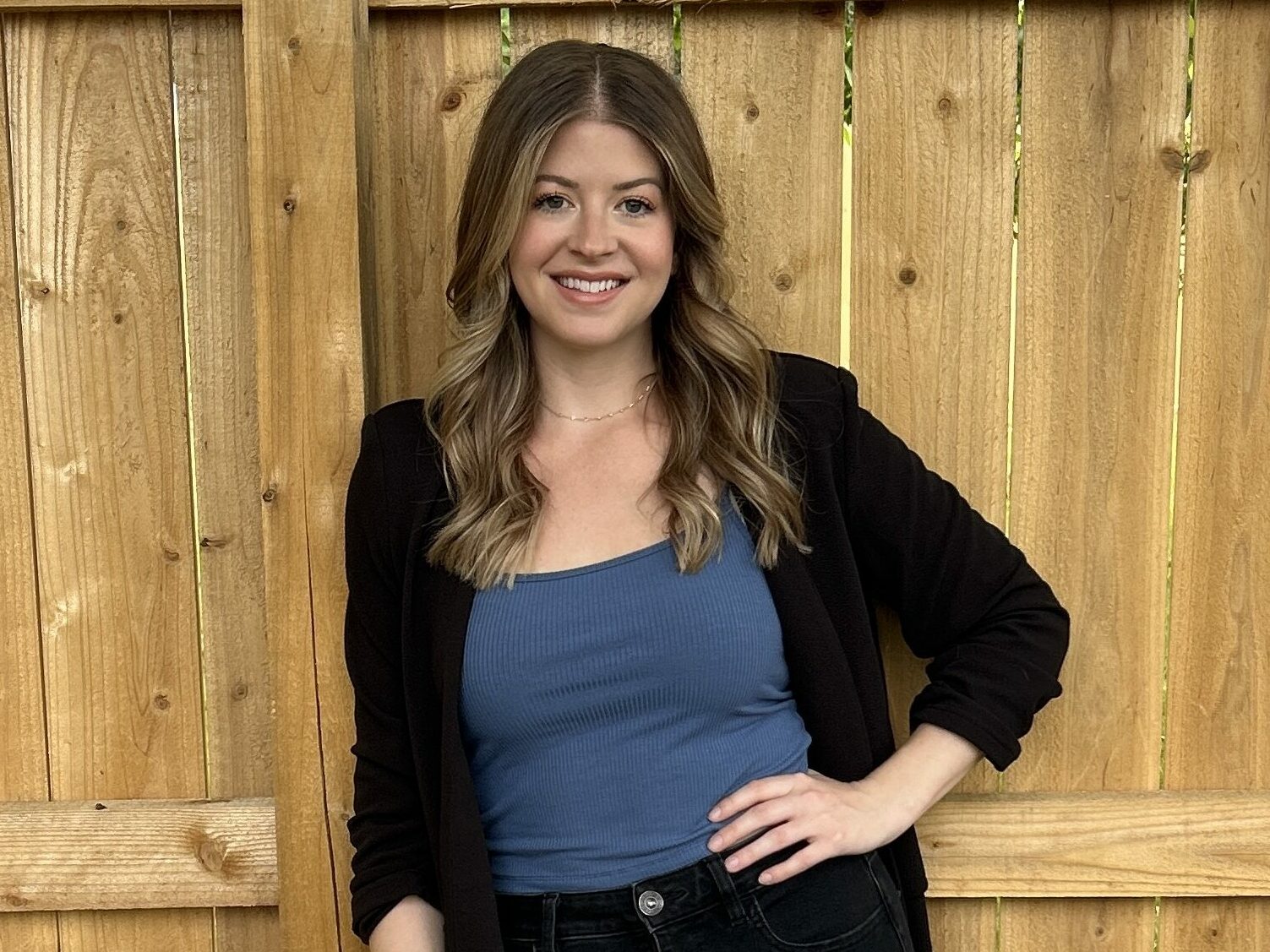 Have you ever had these thoughts?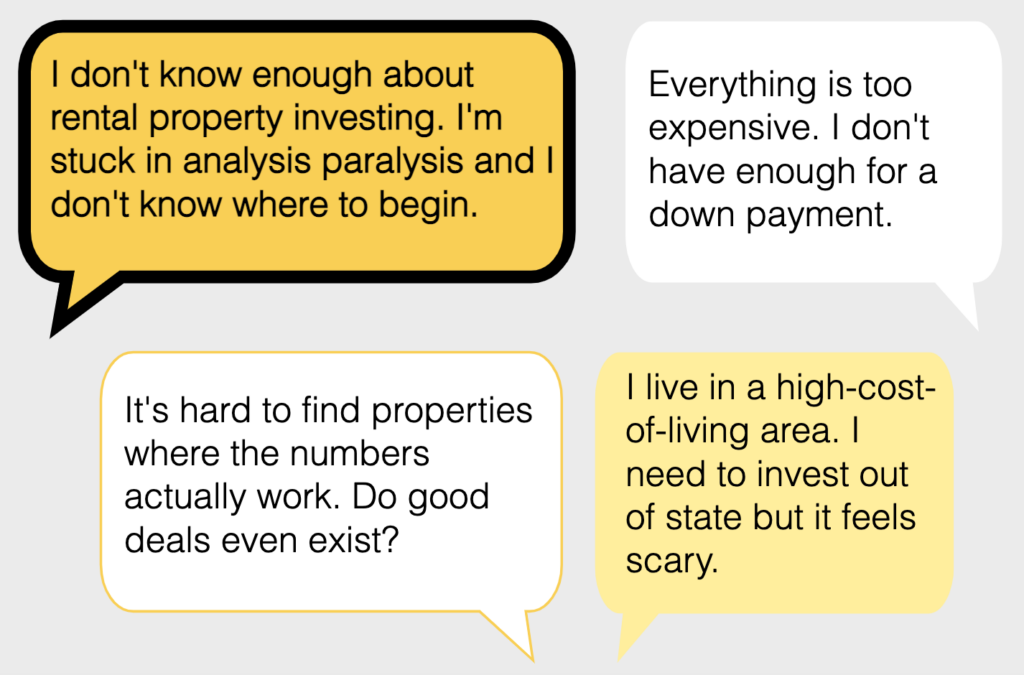 You know you should invest in real estate but you just don't know where to start.
You wish you understood how other investors find deals.
You are constantly second-guessing what type of property to invest in or what market to invest in.
You understand the basics, but you're wondering how to analyze a property so that you won't lose money.
You've read all the books, listened to all the podcasts, and you desperately want to start investing in real estate… but you're still stuck.
If this is you, you're in the right place.
In just 12 weeks, you'll feel completely confident finding & analyzing deals… so that you can finally invest in real estate and work towards financial independence.
What will this bootcamp do for you?
Take the guesswork out, so you're not wondering where and how to start.
Build your confidence, so you can finally take the first step towards becoming a real estate investor.
Show you ways to get started investing even if you have less than $10,000 saved.
Teach you how to invest out of state so that you're not limited to an expensive city.
Take away your fear by teaching you how to quickly & confidently analyze deals.
Show you how to find the best off-market real estate deals.
Hi, I'm Rachel!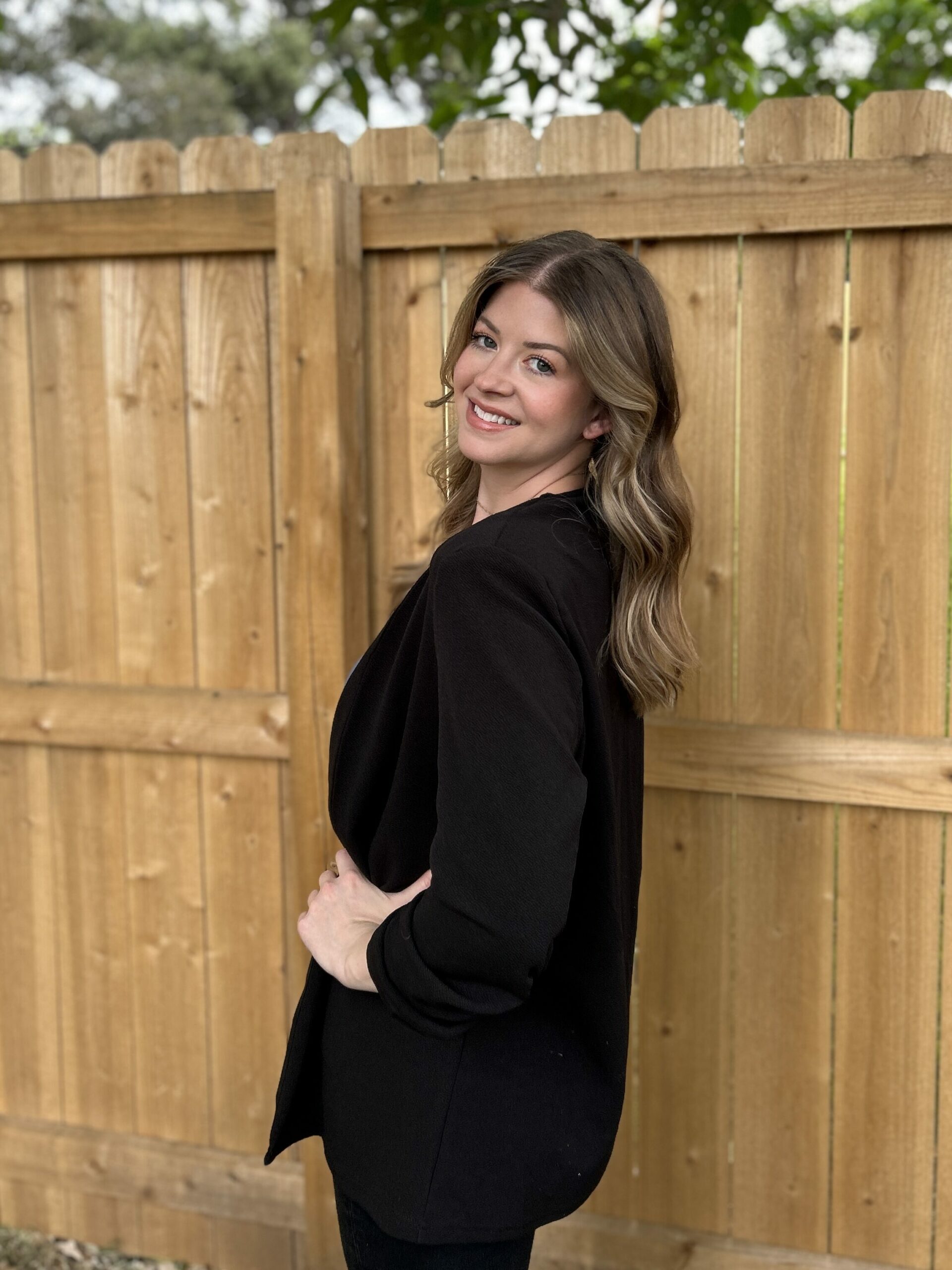 Who Am I?
Former Financial Advisor
2X Bestselling Author
Real Estate Investor
Early Retiree (financially independent by age 27)
Entrepreneur with $20,000+ / month in passive income
I now directly own 6 rental units. As a part-owner in 10 syndications, my current portfolio consists of: 1010 residential / commercial units, 89 mobile home units, 65 self storage units, 2 laundromats, 1 car wash, and a 196,000 sq ft manufacturing facility.
I scaled from zero to 38 doors in two years. I'm not a trust fund baby and I never made six figures from a job. I'm here to show you exactly how I did it, and how you can too.
Testimonials from past Bootcamp students Chuck, Shay Marie, and Katie
Find & Analyze Rental Property is a fun and engaging recorded bootcamp taken over 3 months. Here's what you get:
Twelve 30-45 minute videos from Rachel, teaching you how to find & analyze investment property
A case study showing exactly how Rachel found and analyzed her very first deal
Regular check-ins for accountability
A free digital download of Passive Income, Aggressive Retirement
Access to Rachel's documents and templates including her Cash Flow Analyzer
Take a look at the curriculum!
Week 1: Intro & Setting Parameters
What kind of real estate should you look for? Defining residential real estate investing, single family vs. multi family, Airbnb vs. long-term leasing, and location and long-distance landlording.
Week 2: Building Your Team
Finding an investor-friendly realtor, lender, insurance agent, home inspector, and contractor.
Week 3: Investing with Less Than 20% Down
Learn 5+ strategies for investing with less than 20% down, and when you don't have a W2 income to qualify for a mortgage.
Week 4: How to Find Good Deals Part 1/3
Deep dive into the MLS, networking, bandit signs, and driving for dollars.
Week 5: How to Find Good Deals Part 2/3
Deep dive into preforeclosure leads and short sales.
Week 6: How to Find Good Deals Part 3/3
Deep dive into foreclosure & tax deed auctions, REO leads, and probate leads.
Week 7: Locating the Owner + Direct Mail Campaigns
Learn how to easily find the owner of any property, and how to send an incredibly cost-efficient and effective direct mail campaign using Rachel's own templates.
Week 8: How to Analyze Deals Part 1/3
The 1% rule, metrics (cash-on-cash ROI, net cash flow, capitalization rate), and introducing the Cash Flow Analyzer.
Week 9: How to Analyze Deals Part 2/3
Cash Flow Analyzer continued: estimating rent and property taxes.
Week 10: How to Analyze Deals Part 3/3
Cash Flow Analyzer continued: worst-case and breakeven scenarios, and making the #s look better.
Week 11: Cash Flow Analyzer Example
Walk through the entire Cash Flow Analyzer using a real life example!
Week 12: Wrap Up
Next steps and how to take action.
Who this Bootcamp is for:
​Beginner and intermediate U.S. investors who are interested in buy and hold residential real estate.
People who are stuck on the finding & analyzing rental property steps.
Motivated students who are eager to take action and need guidance and support in getting started.
Who this Bootcamp is NOT for:
Investors who need help finding and screening tenants or managing their rentals. The focus of this bootcamp is only on finding & analyzing real estate, which have been identified as the two hardest parts for real estate investors. The goal is to go DEEP into these two topics, leaving no question unanswered, rather than skimming through everything and leaving you wanting more.
People who want a shortcut or magic bullet. There are no shortcuts. You will be given everything you need to know, but YOU still have to do the hard work.
Those who want to flip houses or invest in commercial property.
You might be wondering….
Is this Bootcamp taught live?

No, this is a recorded program, consisting of training videos and templates that are made available weekly over the course of 12 weeks.

Can I even buy in the 2023 market? Is it possible to find good deals with interest rates and high prices?

Great question. The answer is: YES! There will always be a reason that the market isn't ideal. It's tougher to find great deals right now, and that's why I teach this Bootcamp… so that you're not competing with thousands of other investors searching on the MLS. By looking for off-market deals, you'll be able to find amazing opportunities, even right now. With interest rates, the way I see it is: if you buy now and rates go up, you got an awesome rate! If you buy now and rates go down, you can refinance into a lower rate. I personally bought a rental property in early 2023.

I want to invest out of state. Should I enroll?

Absolutely. This bootcamp is designed for both local and out-of-state investors. My only assumption is that you want to invest in residential rental properties anywhere inside the U.S. People outside the U.S. are welcome to enroll and can learn the concepts, but specifics will be U.S.-based.

Do I have lifetime access?

Yes! You have lifetime access to all of the videos and templates.

I'd like to buy a rental property in the next 2-3 years, but I don't have a down payment saved yet. Will this bootcamp help me?

Absolutely, and congrats on getting a head start! Yes, this is an excellent time to learn how to find and analyze deals. By the time you're ready to invest, you'll be super knowledgeable and confident.

My schedule is unpredictable and I'm not sure how much time I have to dedicate to the bootcamp. Is that okay?

Totally okay! The group pacing is an option, not a requirement. You will have lifetime access to the videos and templates, so you can revisit them anytime you want.

What if I live outside the U.S.? Will this bootcamp still help me?

If you live in another country, you are welcome to enroll, and you can still learn a lot conceptually. However, specifics about taxes, law, and financing are geared towards U.S. residents who want to invest in the U.S.

Will this bootcamp help me learn about short-term rentals and Airbnb?

The main focus will be on long-term rentals. Also, at a high-level, you will learn a little about how to analyze short-term rentals.

Do you guarantee results?

Nope! While I guarantee I will give you all the tools and resources you need to find & analyze rental property, I can't control the effort you put in and whether you take action or not. Each individual's success depends on many factors, including his or her background, dedication, desire, and motivation.

What is the refund policy?
Ready for this?
I went from 0 to 38 properties in just two years and share everything I know in this 12-week course.
You just have to be willing to learn and take action.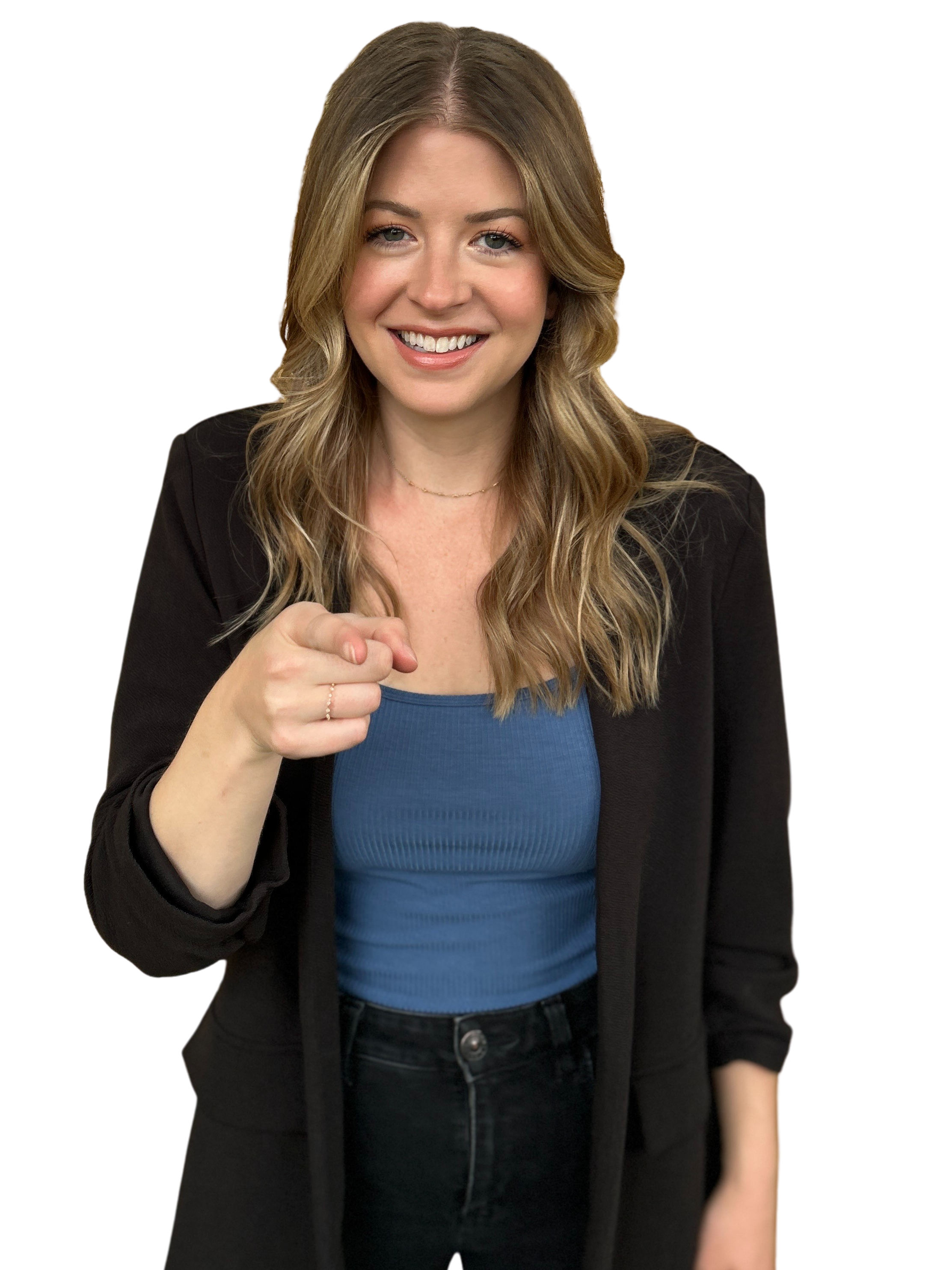 Comments from class were full of ENERGY!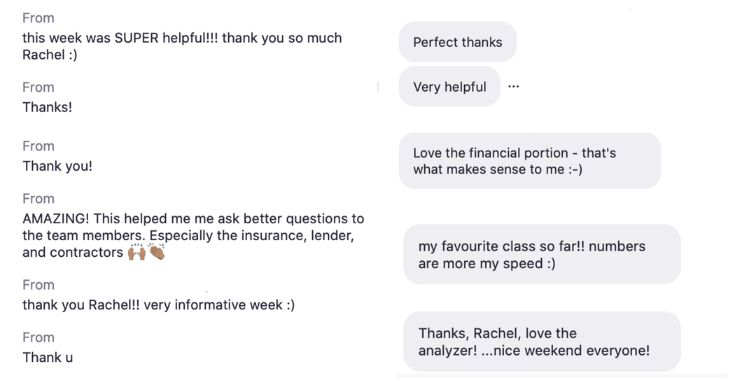 Why should I join?
To save yourself from making an expensive mistake. (I've made plenty of those!) You can learn from the school of hard knocks, or you can learn in an online classroom.
When you are able to find and invest in your first rental property because of this bootcamp, you can expect a 12%+ ROI on your money. That means $15,000 invested in a property will give you $1,800 per year in profit. Over 20 years, that's $36,000 that you didn't have before.
With that math as an example, the ROI on this course is 1,801%!
It's all in the numbers. If you take action with what you learn from this bootcamp, it will more than pay for itself.
As you continue to make smart decisions about rental property investing, this course will pay for itself over and over again.
If this class can spare you from buying the wrong rental property, just once, it could save you from making a six-figure mistake.
"But Rachel, I could do this on my own. Why should I pay you?"
Then why haven't you? Something is holding you back, or you wouldn't be reading this page in the first place. Whether it's lack of confidence, capital, or knowledge, this bootcamp will give you what you need so you can finally take that first step. It's time to move past mere talk or desire and commit to taking action. Help me help you!
What did past Bootcampers have to say?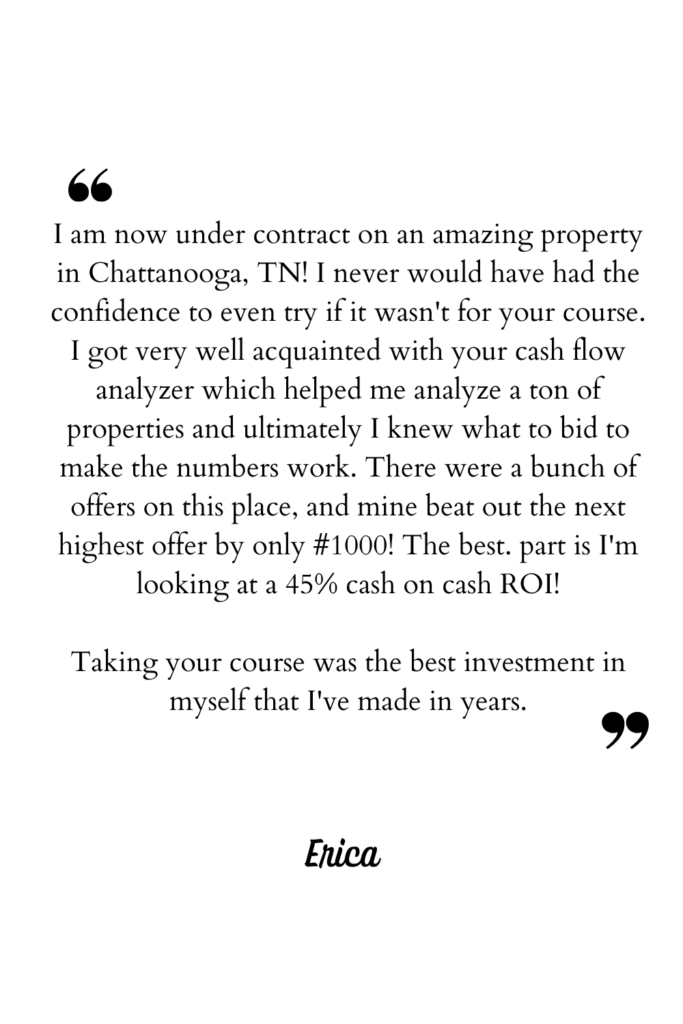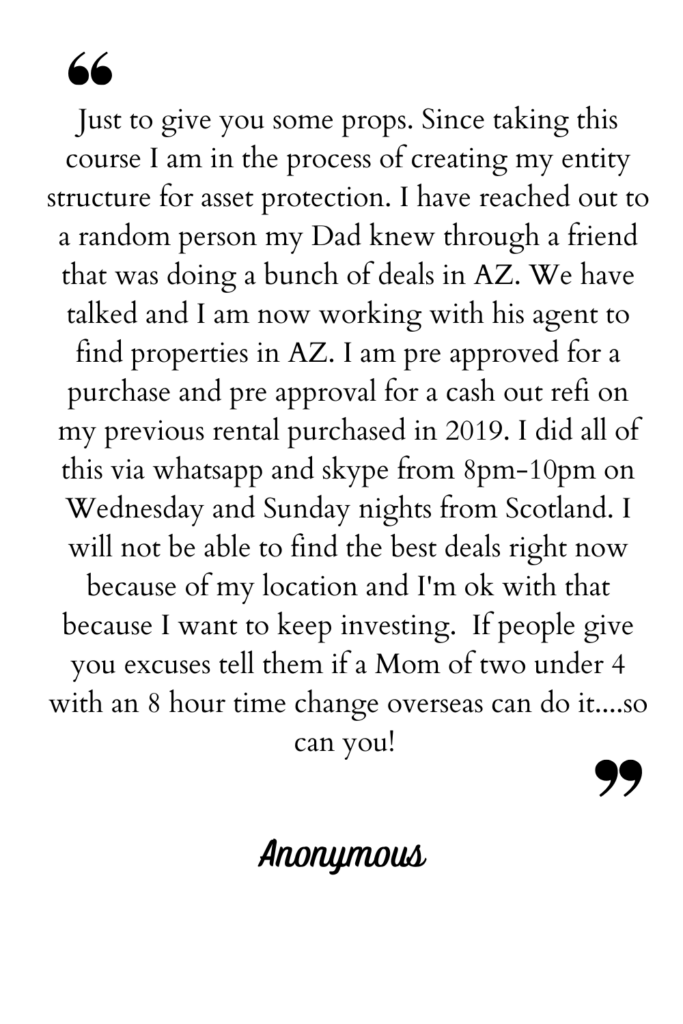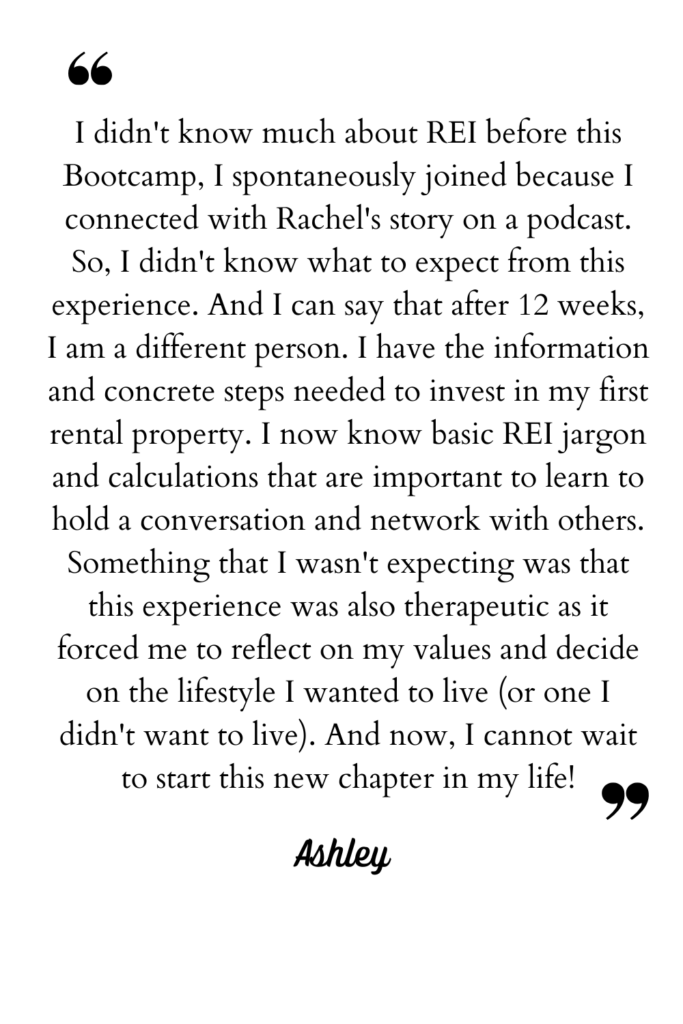 I'm known for getting results. But you've got to really want it.
ARE YOU READY?