We are in a financial education crisis.
At no point in our lives are we taught how to manage our money, and then we're left as young adults trying to figure it out all on our own
​No wonder so many of us feel guilt, shame, embarrassment, and despair when it comes to our finances.
​That's why I set out to change the way we feel about money.
In high school and college, my family and friends constantly approached me for financial advice. I began to wonder, "Why don't people learn on their own?"
And then I realized, "Oh yeah… personal finance is boring! It's dull, complex, and totally overwhelming. Thank you, next."
I began to wonder how I could make the topic of money management fun, entertaining, and simple…
My Programs
I currently offer three programs, all of which are designed to help you make massive progress towards financial independence. Take a look!
Get Your Financial $hit Together

An 8-Week online course that will help you lower your bills, save some extra money, invest for your future, and have cash on hand to do the things you love.

Find & Analyze Rental Property Bootcamp

A 3-month live bootcamp that shows beginner investors how to identify residential real estate deals with 12%+ ROI.

Women on F.I.R.E. Mastermind

A group of ambitious women who have a desire to create passive income and achieve financial freedom through real estate investing.
My Books
With over 50,000 copies sold and 2,000 reviews, my bestselling books were written to make you laugh while learning about money!
Money Honey
A Simple 7-Step Guide for Getting Your Financial $hit Together. What if one book could dramatically change the way you think about money?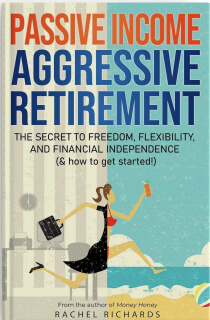 Passive Income, Aggressive Retirement
The Secret to Freedom, Flexibility, and Financial Independence. Wish you could make more money, quit your job, or become financially independent? It all starts with passive income.
Hi, I'm Rachel!
At the age of 27, I quit my job and retired. I'm now living off $20,000 per month in passive income. You should know: I'm not a trust fund baby and I never made 6 figures from a job.
But also: I once baked cookies on wax paper. One time, I said "Hola" to my French professor. And I once left the oven on overnight. Adulting is hard, y'all.
I'm on a mission to empower 1,000,000 women to take control of their financial futures with excitement and confidence.
My Blog
Are you in the learning phase? I gotchu, fam.
Explore tons of free content here!